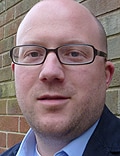 Dr. Jason Wolff
CHAPEL HILL, N.C. --
Early brain development abnormalities in infants may predict risk for autism spectrum disorders
(ASDs), a new imaging study suggests.
Investigators assessed 92 infants considered to be at high risk for ASDs and found that those who showed "aberrant development of white matter pathways" starting at the age of 6 months were more likely to develop ASDs by the age of 2 years than those who did not have the early pathway problems.
"We saw less change in the strength of white matter connections, or brain wiring, across multiple pathways. In fact, 12 different pathways were significantly blunted in the children who went on to develop autism," lead investigator Jason J. Wolff, PhD, postdoctoral fellow at the Carolina Institute for Developmental Disabilities at the University of North Carolina, Chapel Hill, told
Medscape Medical News.